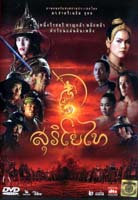 Suriyothai (2001)
[3 tempi]
Alle prese con la storia del suo paese, il principe Chatrichalerm Yukol, principale esponente della cinematografia thai d'oggidì, non bada a spese e confeziona il blockbuster più costoso e imponente (circa 20 milioni di dollari americani, uno sproposito per i modesti parametri economici locali) mai realizzato in patria. Suriyothai attraversa gli anni bui dell'impero siamese di Ayodhaya, in lotta contro i ribelli Hongsa e in cerca della pace interna. Nel susseguirsi di re e regine, di cortigiane, consiglieri e valorosi comandanti, un'unica figura si muove con coerenza sullo sfondo, la saggia principessa Suriyothai, moglie del secondo re Tien, unico possibile leader di una nazione in crisi dopo la morte del sovrano, assassinato insieme al figlio, a tradimento, dall'ambiziosa concubina Srisudachan. Risolti i problemi della corona, Tien deve affrontare in una battaglia campale l'eterno rivale, capo delle orde Hongsa: messi alle corde dalla superiorità numerica dell'esercito nemico, il re e Suriyothai si sacrificano in prima persona e, armi in pugno, si uniscono coraggiosamente ai loro soldati per portare a casa vittoria, libertà e sopravvivenza dell'impero.
Monumentale esibizione di sfarzo ed estetica, Suriyothai, pluripremiato al Bangkok Film Festival, primo film thai ad essere distribuito negli U.S.A. (previo intervento della Zoetrope di Francis Ford Coppola, che lo ha completamente rimontato e re-intitolato The Legend of Suriyothai), è un trattato di arte militare e storia, saggio coinvolgente che solo nel finale concede il giusto tributo romantico alla sua eroina. Minuziosa, dettagliata, l'opera è senza alcun dubbio una delle produzioni più importanti degli ultimi anni nel panorama del sud est asiatico. La complessità della trama, l'estrema lunghezza (oltre 180 minuti), l'ampiezza del periodo preso in considerazione e l'inevitabile dilatazione dei fatti e dei tempi del racconto non aiutano lo spettatore a immergersi in un universo completamente nuovo, meravigliosamente affrescato ma di difficile interpretazione, almeno per il primo terzo del suo svolgimento. Ma quando arriva la consapevolezza di avvenimenti, personaggi, schieramenti, successioni dinastiche e nomi, pazienza e tenacia sono premiate dalla nobiltà dello spettacolo, comunque sin dal principio godibile nel suo immaginifico (e spiazzante) splendore. A quel punto lo sguardo è appagato e ripagato dal totale disvelamento di un immenso arazzo finemente intarsiato, metodica dimostrazione di bravura e precisione stilistica.
A beneficio del grandissimo pubblico, Chatrichalerm Yukol mette da parte certi vezzi tipici del suo modo di girare, riducendo al solo epilogo la sua propensione per ralenti e frammentazione. Il suo approccio è quello dello studioso, dell'appassionato, mai sopra le righe, mai ironico ma neanche pedante o demagogico. Il suo amore per i personaggi e per il loro posto nella storia è tale che li immortala come icone collettive da mitizzare e ricordare. Le scene di guerra sono magistrali, campali momenti di crudo nazionalismo, struggenti atti di devozione alla causa trattata e all'onore del cinema bellico cappa e spada. Il dispiegamento dei mezzi è davvero impressionante: spossante prova di ardore che più volte durante la lavorazione, per stessa ammissione del regista («Le scene di massa con gli elefanti sono state più facili da scrivere che da dirigere»), ha portato alla luce la difficoltà di trasportare le scene della tradizione orale dalla carta della sceneggiatura alla pellicola. Il viaggio a ritroso nel tempo è paradossalmente di frastornante modernità: merito delle ricostruzioni credibili, della buona recitazione, della realizzazione tecnica all'altezza e dello script efficace che, nonostante la durata spropositata, risulta sempre lineare e addirittura sintetico.
Matteo Di Giulio – Asiaexpress.it
Il film epico Suriyothai rivisita la figura di Domingos de Seixas, un mercenario portoghese che si trovò nell'antica capitale di Ayuthaya dal 1524 al 1549. Quest'uomo, vissuto nel regno per venticinque anni, tornò in Patria per fare rapporto al re del Portogallo, Giovanni III. Il rapporto, trascritto e conservato dagli storici portoghesi, resta uno dei più importanti documenti della storia thailandese di quel periodo.
Il film si sofferma su alcuni eventi storici che cambiarono la vita dell'eroina Suriyothai, sposa del re Mahachakrapat.


Provenienza: Thailandia
Anno: 2001
Durata: 183 min
Studio: Prommitr Production
Regia: Ryuhei Kitamura, Norio Tsuruta
Sceneggiatura: Chatrichalerm Yukol
Fotografia: Igor Luther, Stanislav Dorsic
Musiche: Richard Harvey
Cast: Lady M.L. Piyapas Bhirombhakdi, Sarunyu Wongkkrachang, Chatchai Plengpanich, Sorapong Chatri, Mai Charoenpura, Pongpat Wachirabunjong




Sottotitoli
Messaggio modificato da fabiojappo il 03 November 2014 - 04:40 PM