Dragon Zakura



- Raw 704x396 (d-addicts) -
Sakuragi Kenji, attualmente avvocato e un tempo membro di una banda di motociclisti, decide di guidare gli indisciplinati studenti di una scuola sull'orlo del fallimento affinchè, nonostante la loro media scolastica molto bassa, riescano ad entrare nella più prestigiosa università del Giappone, la Todai di Tokyo.
"Se volete cambiare la vostra vita, entrate alla Todai!"
Sakuragi è spinto esclusivamente dalla propria ambizione personale e ha l'obiettivo di portare 100 studenti alla Todai. In questo modo crede di risollevare le sorti della scuola e evitare il fallimento.
Sakuragi incontrerà molti ostacoli e difficoltà nel relazionarsi con gli studenti ai quali, oltre a tecniche di apprendimento utili a superare il test di ammissione alla Todai, darà anche importanti lezioni di vita.
Commenti
Il drama è tratto dal famoso (e omonimo) manga vincitore del 29th Kodansha Manga Awards (solo serie manga pubblicate da Kodansha sono ammesse a questi premi interni che negli anni precedenti hanno visto vincitori di calibro come Akira di Otomo, Black Jack di Tezuka, GTO di Fujisawa).
L'autore di Dragon Zakura (o Dragon Sakura) è Mita Norifusa
Il titolo è stato serializzato sulla rivista giapponese Morning e recentemente Kodansha, vista la sua grande popolarità, ha deciso l'adattamento televisivo in un drama.
Curiosità
Il protagonista del drama, Abe Hiroshi, è tra gli interpreti del drama appena concluso (la traduzione) Yasha, dove interpreta la parte di Ken. E' proprio il nome di questo personaggio è emblematica dal momento che Abe Hiroshi diventerà noto agli amanti di anime come il doppiatore del personaggio di Ken nei nuovi film e OAV di Hokuto No Ken che usciranno nel corso del 2006 e a cui si riferiscono queste immegini.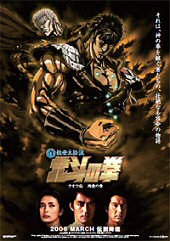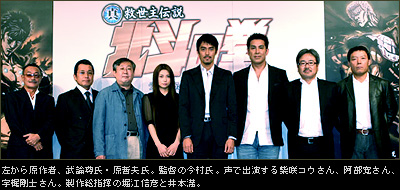 Dettagli
Titolo
: Dragon Zakura
Numero Episodi
: 11
Genere
: Comedy
Broadcasted by
: TBS
Broadcast period
: 2005-07-08 to 2005-09-16
Credits
Prodotto da
: Enda Kouichi, Shimizu Mayumi
Regia
: Tsukamoto Renpei, Karaki Marehiro, Komatsu Takashi
Sceneggiatura
: Hata Tatehiko
Musiche
: Nakanishi Tadashi
Titoli degli episodi e percentuale di traduzione del sottotitolo
Ep 01
: Baka to Busu koso toudai e ike / Only idiots and ugly girls go to Toudai
(100%)
Ep 02
: Jibun no yowasa wo shire! / Know your own weakness
(100%)
Ep 03
: Asobe! juken wa supootsu da! / Play! Test taking is a sport!
(100%)
Ep 04
: Kabe ni butsukaru made gaman shiro / Don't stop until you hit the wall
(100%)
Ep 05
: Nakuna! omae no jinsei da! / Don't cry! it's your life!
(100%)
Ep 06
: Eigo taiketsu! / English showdown!
(100%)
Ep 07
: Mikaeshite yaru! toudai moshi! / Go triumph! tokyo university mock test!
(100%)
Ep 08
: Baka no namida... natsu yasumi kagai jugyou / Tears of idiots... summer vacation extracurricular lesson
(100%)
Ep 09
: Shinjiro! seiseki wa kanarazu agaru / Have belief! your results will definitely improve
(100%)
Ep 10
: Yuujou ka juken ka? saigo no ketsudan / Friendship or the test? final decision
(100%)
Ep 11
: Omaera wa mou baka janai! Unmei no Goukaku Happyou / You are not idiots anymore! The fatidic approval announcement
(100%)
Speciali
: Dragonzakura NG (No Good) - errori sul set
(100%)
Cast
Abe Hiroshi as Sakuragi Kenji
Hasegawa Kyoko as Ino Mamako
Yamashita Tomohisa as Yajima Yuusuke
Nagasawa Masami as Mizuno Naomi
Koike Teppei as Ogata Hideki
Aragaki Yui as Kousaka Yoshino
Nakao Akiyoshi as Okuno Ichirou
Saeko as Kobayashi Maki
Nogiwa Yoko as Tatsuno Yuriko (Director)
Saitou Yosuke as Vice-principal Kondou
David Ito as Teacher Ochiai Masanao
Andou Ryouji as Teacher
Tsukiyama Mayumi as Teacher
Aoyama Masaru as Teacher
Ishino Mako as Mrs Yajima
Miho Yuki as Mrs Mizuno
Sunaga Kei as Mr Ogata
Aihara Yuko as Mrs Ogata
Mizutani Momosuke as Okuno Jirou
Yazawa Shin as Yamamoto Nozomi (Mamako's Friend)
Terada Minori as Teacher Akutayama Ryuuzaburou (Litterature)
Kaneda Akio as Teacher Kawaguchi Hiroshi (English)
Kobayashi Susumu as Teacher Ain Shuutarou (Physics)
Shinagawa Toru as Teacher Yanagi Tetsunosuke (Mathematics)
Messaggio modificato da asturianito il 04 January 2011 - 08:03 PM
ho inserito un link ai subbi.