Hole in the Sky
Titolo originale: Sora no ana

Anno: 2001
Durata: 127 minuti
Genere: Drammatico - Commedia
Regia: Kumakiri Kazuyoshi
Sceneggiatura: Kumakiri Kazuyoshi
Con: Terajima Susumu, Kikuchi Rinko, Tobayama Bunmei, Sawada Shunsuke

1,36

Traduzione: fabiojappo e battleroyale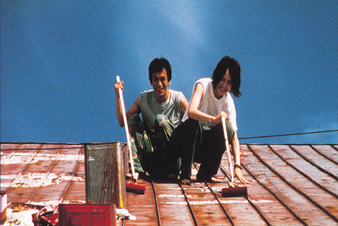 TRAMA
Hokkaido. Ichio gestisce, con lo stravagante padre, un ristorante sulla strada frequentato da qualche camionista e da pochi viaggiatori di passaggio. Un giorno entra nella sua vita solitaria Taeko, un ragazza di Tokyo abbandonata dal fidanzato vicino al locale. Ichio le offre alloggio e lavoro.
Susumu
Terajima
e Rinko
Kikuchi
(quando ancora usava il suo nome, Yuriko). Due validi motivi per vedere il film ci sono già. Due interpreti non qualsiasi. Lui bravissimo in questo insolito personaggio, Ichio, che conduce una vita solitaria scandita da corse mattiniere (Terajima mitico in tuta come in "Distance" di Koreeda!) e dal lavoro nella cucina del ristorante. Una vita di autoclausura sconvolta dall'incontro con Taeko interpretata da Rinko Kikuchi, allora ventenne, al suo primo ruolo importante. Un incontro che porterà Ichio anche a riflettere sul suo passato, segnato da un doloroso abbandono. Due grandi protagonisti diretti da un grande regista: Kazuyoshi
Kumakiri
. In una storia semplice, "vera", che ha il fascino della poesia del reale.
Per il resto leggete il commento di battleroyale qui sotto.
RECENSIONE DI BATTLEROYALE
Quello di Kumakiri è un cinema originale nel suo immergersi completamente nelle vite quotidiane dei propri personaggi, presentando storie spesso di una banalità sconcertante (proprio perché sono vita vera), di una trama labile. Questo accadeva un po' anche con quel devastante debutto che fu il violentissimo "Kichiku" (1997), disturbante pièce che partiva placida, per poi addentrarsi furtivamente nella stridente psiche umana, dando il là a un delirio splatter metafisico che pugnalava lo stomaco, e persino con il suo film minore, il deludentissimo "Freesia": deludente perché su commissione, perché gelido, senza un minimo di quel calore di sovrumana naturalezza che Kumakiri è in grado di donare in ogni pellicola, ma lodevole nel tentativo di diminuire notevolmente l'azione del manga a cui si ispira, per rendere l'opera il più spontanea possibile.
E così accadde per lo straordinario "Antenna" (2001), delirante ed elegantissima scomposizione familiare con bellissime riflessioni sul sesso e sulla capacità di amare, o ancora nel suo ultimo, bellissimo, film, "Non-Ko", dove il realismo è talmente forte da farci dubitare di vedere un film.
Ma se c'è il film più Kumakiri della sua filmografia, è senza dubbio "Hole In The Sky", una commedia sulla vita, un vera e propria comédie humaine di personaggi reali che si muovono in spazi familiari di una bellezza lancinante. "Hole In The Sky" è un sublime racconto on the road talmente avvolgente da far dimenticare la sua (apparentemente) chilometrica durata di due ore e dieci. Non si sente perché, pur raccontando molto poco, nella sua spontanea poesia stravince anche sullo spettatore meno preparato. Un viaggio che non è disturbante come "Kichiku", né erotico come "Antenna", o sanguineo come "Freesia", "Hole In The Sky" è vita su cellulosa.
Girato con una fotografia splendida e pittoresca (a tratti persino fauve), con attori ottimamente calati in parte, "Hole In The Sky" è uno dei più sinceri film giapponesi degli ultimi anni, in grado di essere spontaneo e stupendo (la scena di Tae-Chan, dormiente in un sacco a pelo abbandonato in un prato è splendida), fino a un finale di rara bellezza compositiva.
Commedia brillante o dramma speranzoso? Chi lo sa. "Hole In The Sky" è un film che, come il 90% delle opere di Kumakiri non rientra in genere prefissato, perché, semplicemente, è vita.
Grazie a battleroyale per l'aiuto nella traduzione e per il bel commento al film.
SOTTOTITOLI

Hole.In.The.Sky.AsianWorld.rar 15.91K 150 Numero di downloads
Messaggio modificato da fabiojappo il 18 September 2015 - 09:14 AM