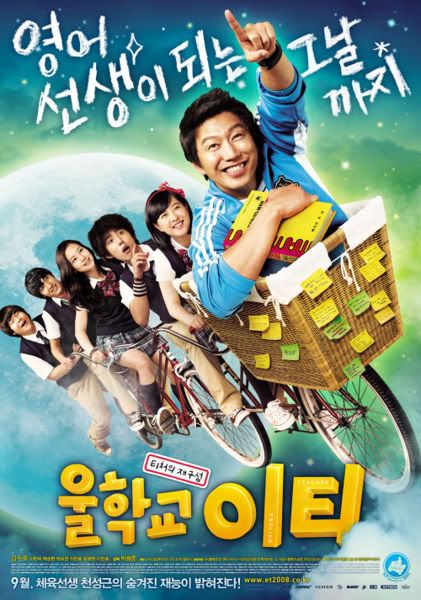 Versione da 2 cd BIFOS

Titolo:Our School E.T.
Titoli alternativi: Our English Teacher
Titolo originale: 울학교 이티
Woolhakgyo ET
Regia: Park Kwang Chun
Produzione: Korea del Sud
Genere: Commedia Scolastica
Anno: 2008
Durata: 120 min.
CAST:
Kim Su ro è Kim Seong-gun
Baek Seong hyeno è Jeong-ku
Park Bo yeong è Song-yi
Lee Min ho è Sang-hun
Mun Chae won è Eun-sil
Lee Chan ho è Ki ho
Trama:
Seong-gun è un "pazzo" insegnante di ginnastica, che vive ancora con sua madre, che si trova costretto a insegnare inglese...ma la sua preparazione non è delle migliori e quindi si impegna a studiarlo! Ma la sua vita è movimentata e si intreccia con quella dei suoi alunni...o per meglio dire lui interviene nella vita degli studenti portando doni e felicità, con quella degli altri insegnanti che non lo vogliono e lo ostacolo, e con quella di malviventi, cattivi e violenti!
Commento di Sara & Moni_Obachan:
Volete vedere un film a metà tra l'Attimo fuggente e Rocky????
Se la risposta è si questo è il film per voi!!!!
Questa simpatica commedia, con delle venature dolci – amare, vi accompagnerà in una gradevole avventura, e vi troverete a tifare per questo strano E.T.
Il Sig. Chun nonostante sia "solo" un professore di ginnastica crede nell'insegnamento sopra ogni cosa, facendo la sua ragione di vita l'aiutare come può i suoi alunni senza chiedere nulla in cambio. Il suo amore per l'insegnamento si rileva in ogni suo gesto verso i suoi studenti anche se a volte con metodi anticonformisti: aiutare uno studente a diventare un boxer professionista, sostenere economicamente una ragazza meno
agiata o solamente dispensando i giusti consigli. La sua battaglia per poter continuare ad insegnare, anche se come professore di inglese, vi renderà partecipi ed entusiasti, facendovi sentire a volte esaltati e a volte abbattuti, mentre lo segui che prova a sfatare i pregiudizi sulla sua persona e sull'insegnamento.
E oltre ad essere un ottimo film ha anche un ottimo cast!!!
(Leggasi anche tanti bei gnocchi!)
Il cast vanta molte nuove stelle del cinema/drama coreano tra cui il nostro Lee Min Ho, che potete vedere nella sua immensa gnoccaggine nel drama Boys Before Flowers, oppure nel prossimo "Personal Preference" (ricordo uscirà ad Aprile).
Un altro bel figliolo è Baek Seong-hyeon, per farvi capire quello che faceva il pugile, che potete ritrovarlo in "That fool", in "Damo" e in "Stairway to Heaven".
Un altro attore dalla carriera lunghissima è Lee Han-wi, il preside e amico di Cheon Seong-geun, che attualmente potete vedere in "Hero" , oppure in "Coffee Prince", in "Beethoven Virus", con il bellissimo, straordinario Jang Geun Suk, protagonista di "You're Beautiful" A proposito di "You're beautiful", nel film troviamo Kim Sung Ryung nella parte della direttrice generale, un ruolo diversissimo dalla mamma crudele di Tae Kyung.
La piccola Park Bo-yeong, ha appena iniziato la sua corriera ma l'ha iniziata bene! Un suo film carinissimo è "ESP Couple" che vi consiglio caldamente!!
Ed infine Moon Chae-won, bravissima in questo film, odiata in "Shining Inheritance", da vedere assolutamente in "My Fair Lady".
Inoltre il nostro prof preferito ha una carriera lunghissima, io vi dico solo "God Of Study" e "S Diary" con la bellissima Sun Ha!
Messaggio modificato da creep il 25 February 2010 - 09:34 PM