Today And The Other Days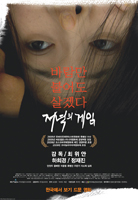 Titolo : Today And The Other Days
Titolo originale : Jeo-nyeok-eui gae-im
Regia: Wee-an Choi
Interpreti : Ha Hee-kyeong, Jeong Jae-jin, Ahn Chan-woo, Lee So-hee, Kim Seung-hyeon, Kang Bong-seok
Produzione: Corea Del Sud, 2009
Genere: Drammatico
Durata: 102'
imdb: 7.4/10 (14 voti) http://www.imdb.com/title/tt1528761/
Versione compatibile: gaygay
Traduzione: battleroyale
Revisione: Shimamura81


Una giovane donna sordomuta vive con un padre affetto da demenza senile. Nonostante l'uomo abbia distrutto la sua famiglia e rovinato la vita della donna, lei lo cura con pazienza, sognando quella quiete familiare che non riuscì mai a vivere. Questa stramba famiglia ridotta farà conoscenza con il curioso bambino dei vicini e con un uomo infatuato della giovane sordomuta...
Film d'esordio per Choi Ween-An, promettente regista coreano, che fotografa un'intensa storia (tratto da un romanzo coreano) di affetti e solitudini con un budget ridottissimo, ma con un grande cuore. Choi Ween-An confeziona sicuramente un lavoro fin troppo ambizioso, mescolando registri (piccole parti di commedia e di cinema surrealista si amalgamano in un dramma autoriale vero e proprio) e finendo per perdere, a volte, il senso dell'orientamento e del discorso (dopo la prima ora, c'è un calo notevole narrativo, un po' pasticciato, ma che ritrova linfa nel finale beffardo).

"Today And The Other Days", però, è comunque un film eccellente e il fatto che sia un esordio, è un motivo in più per tenerlo sott'occhio. La regia è ottima, la fotografia, nonostante il budget è molto curata e la recitazione (su tutti spicca una bellissima e bravissima Ha Hee-kyeong, già vista in "The King And The Clown") raggiunge picchi altissimi.

Il regista riesce a raccontare tanto con il niente (la trama è esile esile) e sviluppa il lato narrativo grazie ai bellissimi approfondimenti sul rapporto impossibile tra padre-figlia e sui sogni della donna, surreali, estremi, oppure poetici e utopistici, aiutandosi anche con immagini di raro impatto visivo e destinate ad imprimersi sulla pelle di "chi guarda" (la bellissima scena con la protagonista che si sdraia nella pozzanghera).

Il risultato è indefinibile, è una nuvola multicolore che spezza il cuore. Un film perfetto per la prima ora che, però, poi, si lascia prendere troppo la mano nel mostrare e finisce per allungarsi dove non dovrebbe, prima di giungere ad un finale molto riuscito.

Notevoli, poi, certe simbologie del regista (l'accostare la sordità con il concerto di musica classica finale, l'ossessione di mettere i propri protagonisti in vasche da bagno, pozzanghere, docce...come se si dovessero lavare dei propri peccati, la scena in cui la protagonista legge nella vasca da bagno il libro stesso da cui è tratto il film) che non sono fini a sé stessi, ma che sono parti integranti della narrazione.

Un debutto notevole, da tenere sott'occhio. Il regista ha stoffa da vendere e, sebbene sicuramente abbia tratto ispirazione da qualcuno, ha una certa personalità invidiabile. Da non perdere.
Ringrazio, come sempre, Shima per l'attenta revisione e per il suo entusiasmo!




E, inoltre, ricordo a tutti di votare il film in home quando si è visto!


Trailer:










BUONA VISIONE!


Versione sottotitoli aggiornata in data 27 Aprile 2011:


Today.And.The.Other.Days.gaygay.AsianWorld.V2.zip 9.19K 13 Numero di downloads
(download ad oggi dal forum: 56)
Messaggio modificato da fabiojappo il 20 December 2016 - 07:18 PM