Angel's Egg
Titolo originale: 天使のたまご(Tenshi no Tamago)
AKA: Mystical Egg of the Angels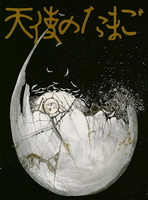 Anno: 1985
Nazione: Giappone
Durata: 71 min.
Regia: Mamoru Oshii
Genere: Animazione – Fantasy
Versione: 650
TRAMA
Una bambina sola in un mondo oscuro e desolato vive raccogliendo acqua in strane bottiglie e proteggendo un grande uovo che porta sempre con sé. Un giorno incontra uno straniero con un'arma e un mantello che le parla in modo simbolico di temi filosofici e teologici.
Scritto da
Mamoru Oshii
("
Ghost in the Shell
", "
Avalon
", "
The Sky Crawlers
") in collaborazione con l'artista
Yoshitaka Amano
, conosciuto per aver sviluppato i personaggi di "
Vampire Hunter D
" e per le illustrazioni del famoso videogioco "
Final Fantasy"
della Square Enix,
Angel's Egg
include caratteristiche surreali ed esistenziali.
Tutto l'anime, splendidamente disegnato e progettato con strade vuote (interrotte ogni tanto da enigmatici via vai silenziosi), crea un sogno, un'atmosfera che ricorda un po' i sinistri dipinti metafisici del pittore Giorgio de Chirico.
Abbondante il simbolismo cristiano: l'arma a forma di croce sulla spalla del personaggio maschile; il grande pesce ombra; la storia dell'arca di Noè. Simboli che occupano la gran parte dello scarno dialogo dell'opera. Un film in cui regnano sovrane le immagini e i silenzi scanditi solo ognitanto dal dialogo, che si apre e si chiude con la domanda "Chi sei?" poste dai due personaggi di cui ignoriamo i nomi, e che forse ci poniamo e rivolgiamo noi stessi spettatori.
In un'intervista al regista Oshii venne chiesto di che cosa trattasse
Angel's Egg
, e lui stesso rispose che non lo sapeva.
Se non gradite i film misteriosi e visionari, i finali ambigui e le trame lente questo anime non fa per voi, ma a mio avviso vale la pena vederlo.
Messaggio modificato da fabiojappo il 31 January 2015 - 01:40 PM