ACHILLE E LA TARTARUGA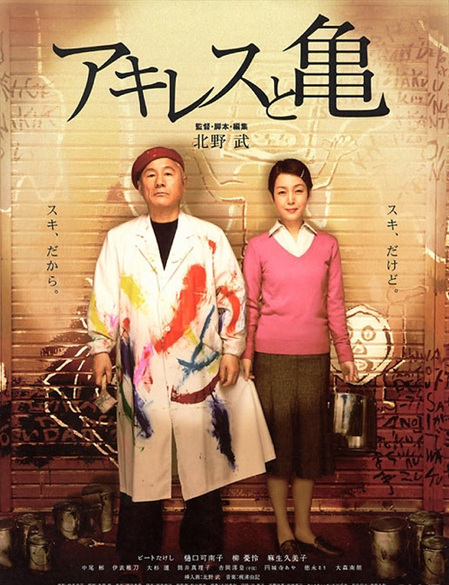 Achilles and the Tortoise (int.) - Akiresu to Kame (アキレスと亀) (jap.)

REGIA:Takeshi KITANO; SCENEGGIATURA:Takeshi KITANO; FOTOGRAFIA:Katsumi YANAGISHIMA; DIREZIONE LUCI:Hitoshi TAKAYA; SCENOGRAFIA:Norihiro ISODA; MONTAGGIO:Takeshi KITANO; CAST:BEAT Takeshi (Machisu Kuramochi), Kanako HIGUCHI (Sachiko), Yurei YANAGI (Machisu adolescente), Kumiko ASO (Sachiko giovane), Ren OSUGI (Signor Kuramochi), Omori NAO (Gallerista), Reiko YOSHIOKA (Machisu piccolo), Susumu TERAJIMA (Yakuza); MUSICA:Yuki KAJIURA; SUONO:Senji HORIUCHI; DIPINTI:Takeshi KITANO; ANIMAZIONI:Kouji KAKINUMA; PRODUZIONE:Masayuki MORI, Takio YOSHIDA, Office Kitano, Studio Bandai Visual, Tokyo FM, TV Asahi, WOWOW; DISTRIBUZIONE:Tokyo Theatres (in Italia da Ripley's Film); DURATA:119'; FORMATO:1,85:1; DATA DI USCITA:20 Settembre 2008 in Giappone; INFO:Presentato in concorso alla 65ma Mostra del Cinema di Venezia. Premio Bastone Bianco (Filmcritica).
SINOSSI: La vita e le vicissitudini di Machisu, che sogna fin da piccolo di diventare pittore ma, come Achille nel paradosso di Zenone non riuscirà mai a raggiungere la tartaruga, così lui insegue perennemente quello status senza mai esserne riconosciuto. Il problema è che dietro l'arte mette tutto: famiglia, futuro, salute personale e degli altri; e davanti ad essa la volontà di essere accettato dal mercato.
Una parabola simpatica e grottesca, ma che fa riflettere sullo statuto dell'arte, la sua fruizione estetica e gli spinosi argomenti del tutto personali di Kitano, come il talento e il riconoscimento da parte della società, già trattati in Takeshis' (2005) e Glory to the Filmmaker! (Kantoku Banzai!, 2007), dei quali ne chiude la trilogia.
Grazie alla ormai pienamente raggiunta maturità, riesce a parlare di sé, del suo cinema e del cinema come arte e come industria.

Sartana
ATTENZIONE
Questo titolo è ora reperibile nei migliori negozi e store-on line.
Asian World si prefigge la promozione e la diffusione della cultura cinematografica asiatica.
Per questo motivo i sottotitoli relativi a questo film sono stati ritirati.
Supporta anche tu il cinema asiatico, acquistando questa pellicola in dvd.

Achille e la Tartaruga
Messaggio modificato da fabiojappo il 13 May 2014 - 05:43 PM