Im Kwon-taek







Il padre del cinema nazionale coreano
Im Kwon-taek
nasce a Jangseong, Jeollanam-do, e cresce a Gwangju. Dopo la guerra di Corea si trasferisce a Seul (1956), dove
Jeong Chang-hwa
, il regista del film
Cinque dita di violenza
(1972), gli offre un lavoro come assistente di produzione. Jeong Chang-hwa lo raccomanda per la regia di un film nel 1961. Il debutto come regista di Im risale alla pellicola del 1962,
Farewell to the Duman River
(Dumanganga jal itgeola). Prima del 1980 diventa noto soprattutto per le sue regie di film commerciali, riuscendo a produrne almeno otto l'anno, per rispettare il numero programmato dal governo. Il suo desiderio di realizzare film artisticamente più soddisfacenti gli fa dirigere il suo film del 1978 Jokbo (
Genealogy
), ma il punto di svolta della sua carriera avviene nel 1981, quando realizza il film
Mandala
. Da questo punto in avanti le sue opere vengono considerate a tutti gli effetti film d'autore e sono regolarmente accolte nei festival cinematografici internazionali, dove vincono numerosi premi. Il Cinema di Im si distingue per l'esplorazione di temi legati al passato della Corea e si concentra sull'identità culturale coreana nei tempo moderni. Tra i film più importanti di Im del recente passato spiccano
Sopyonje
(1993) e
Chunhyang
(2000), che si concentrano entrambi sull'arte musicale coreana tradizionale del pansori. Il secondo è anche basato su una leggenda tradizionale coreana. Oltre ad essere stato un successo di critica, Sopyonje ha anche ottenuto successo al botteghino, diventando il primo film nazionale ad attirare più di un milione di spettatori nella sola Seul. Anche
Ebbro di Donne e di Pittura
(2002) ha ottenuto un successo di critica, facendogli guadagnare il premio come miglior regista al Festival di Cannes. Im Kwon-taek è stato anche premiato con l'orso d'oro alla carriera al festival di Berlino nel 2005. Il prestigio di Im Kwon-taek, portato dal successo di critica dei suoi film, è coinciso con l'avvento della New Wave Coreana. Insieme ad altri registi come
Park Gwang-su
e
Jang Sun-woo
, Im è riconosciuto come uno dei fondatori del movimento, che ha portato riconoscimenti di critica internazionale e interesse per il cinema coreano.
Nell'aprile del 2007 Im ha realizzato il suo centesimo film,
Beyond the Years
, una sorta di sequel di Sopyonje. Nel novembre del 2007 il governo francese ha conferito a Im il titolo di cavaliere della Legion d'Onore.
Nel 2013 è stato aperto un museo dedicato a Im, nel campus universitario di Dongseo a Busan.
Tratto da
Wikipedia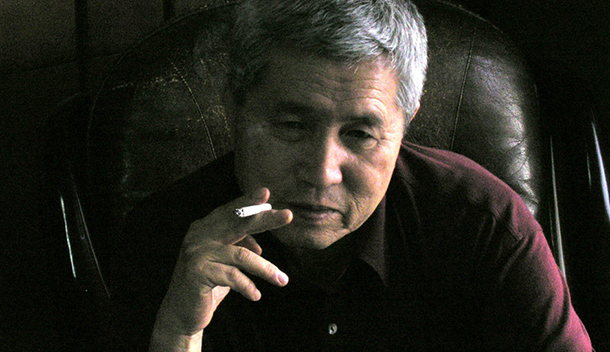 Ritratto di Im Kwon-taek da parte di Gianluca Gibilaro per www.cinemacoreano.it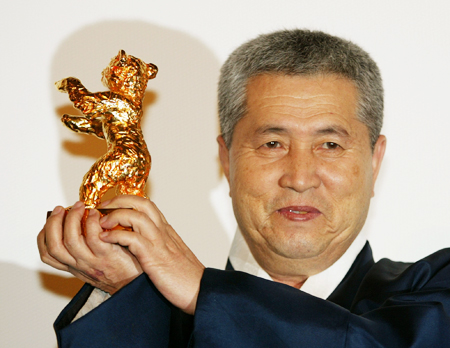 Filmografia
The War and an Old Man ( Jeonjaenggwa No-in ) (1962)

Farewell Duman River ( Dumangang-a Jal Itgeora ) (1962)

Sinmungo ( Sinmungo ) (1963)

For My Husband ( Mangbuseok ) (1963)

Man Is Not Popular ( Namjaneun Anpallyeo ) (1963)

The Power for Ten Years ( Simnyeon Sedo ) (1964)

Her Majesty Yeonghwa ( Yeonghwa Mama ) (1964)

The Regular Tardy Student ( Dangol Jigagsaeng ) (1964)

The Result of the Ambition ( Yokmang-ui Gyeolsan ) (1964)

The Teacher with Ten Daughters ( Sipjamae Seonsaeng ) (1964)

The Heartbreaking Story ( Danjanglok ) (1964)

The King and the Servant Boy ( Wanggwa Sangno ) (1965)

Fading in the Rain ( Bissok-e Jida ) (1965)

Battlefield and a Female Teacher ( Jeonjanggwa Yeogyosa ) (1965)

Nilliri( Nilliri ) (1966)

I Am a King ( Naneun Wang-ida ) (1966)

Ok-i Makes a Judge Cry ( Beopchangeul ulrin ok-i ) (1966)

Nostalgia ( Manghyang Cheolli ) (1967)

A swordsman ( Pung-unui Geomgaek ) (1967)

A Red-and-blue Gauze Lantern ( Cheongsachorong ) (1967)

Returned Left-handed Man ( Doraon Oensonjabi ) (1968)

Lady in Dream ( Mongnyeo ) (1968)

A Man Like the Wind ( Baramgateun Sanai ) (1968)

Femme Fatale, Jang Hee-bin ( Yohwa, Jang Hee-bin ) (1968)

Eagle of Wild Field ( Hwang-ya-ui Dogsuri ) (1969)

Escaping Shanghai ( Sanghae Talchul ) (1969)

A Precious Sword, A knife of Thunder ( Loegeom, Beongaekal ) (1969)

The Night of Full Moon ( Siboya ) (1969)

Sorry to Give You Trouble ( Sinse Jom Jijagu-yo ) (1969)

Rainy Gomoryeong Hill ( Binarineun Gomoryeong ) (1969)

Three Generations of Men (1969)

Chase the Woman (Geu yeojaleul jjoch-ala) (1970)

A Mysterious Sword (Bigeom) (1970)

Rain Outside the Porthole (Binalineun seonchangga) (1970)

A Sword Under the Moon (Wolha-ui geom) (1970)

A Man Who Arrived by Night Train (Bamchalo on sana-i) (1970)

One-eyed Park (Aekkunun Bak) (1970)

A Crape-Myrtle with Morning Dew (Iseulmaj-eun baeg-ilhong) (1970)

Woman with Long Eyelashes (Sognunseob-i gin yeoja) (1970)

A Bout in 30 Years (30nyeonman-ui daegyeol) (1971)

Don't torture me anymore (Naleul deo-isang goelobhiji mala) (1971)

The two revengeful hunchbacks (Wonhan-ui du kkobchu) (1971)

Snow Falls on the Bloody Street (Wonhan-ui geoli-e nun-i nalinda) (1971)

A second mother (Duljjae-eomeoni) (1971)

Whirl of betrayals on Myeongdong (Myeongdongsamgugji) (1971)

Revenge of the sword(Yogeom) (1971)

Seize the Precious Sword (Samgugdaehyeob) (1972)

Cruel history of Myeong Dong (Myeongdongjanhogsa) (1972)

One who comes back and the other who has to leave (Dol-a-on ja-wa tteona-ya hal ja) (1972)

Weeds (Jabcho) (1973)

The big chase (Daechugyeog) (1973)

Obaekhwa (Obaeghwa) (1973)

Testimony (Jeung-eon) (1973)

Parade of Wives (Anaedeul-ui haengjin) (1974)

Yeonhwa (Yeonhwa) (1974)

I won't cry (Ulji anh-euli) (1974)

Yeonhwa 2 (Yeonhwa) (1974)

Yesterday, Today, and Tomorrow (Eoje, oneul geuligo nae-il) (1975)

Why Did I Do That? (Wae geulaessdeonga) (1975)

Wife (Anae) (1976)

Bare Feet In The Snow (Maenbal-ui nungil) (1976)

Does the Nak-Dong River Flow? (Nakdonggang-eun heuleuneunga) (1976)

Japanese Invasion in the Year of Imjin and Gye Wol-hyang (Imjinlangwa Gye Wolhyang) (1977)

The Life of Ok-rye (Okryegi) (1977)

So Close Yet Far (Gakkabgodo meon gil) (1978)

Mother's Face Above Those Waves (Jeo pado-wi-e eomma eolgul-i) (1978)

Evergreen (Sanglogsu) (1978)

Divine Bow (Singung) (1979)

No Glory (Gisbal-eobneun gisu) (1979)

Tomorrow After Tomorrow (Nae-il tto nae-il) (1979)

Mrs. Speculator (Bogbu-in) (1980)

Tears of the Idol (Usang-ui nunmul) (1981)

Polluted Ones (O-yeomdoen jasigdeul) (1982)

Abengo Airborne Corps (Abengo gongsugundan) (1982)

Daughter of Fire (Bul-ui ttal) (1983)

Crying in a Butterfly's Embrace (Nabipumeseo wuleoss-da) (1983)

You Can't Stop a Flowing River (Heuleuneun gangmul-eul eojji mag-eulya) (1984)

Ticket (Tiket) (1986)

Adada (A-dada) (1987)

Prince Yeon-san's Life (Yeonsan-ilgi) (1987)

Fly High Run Far-Kae Byok (Gaebyeog) (1991)







Retrospettiva
La retrospettiva che presentiamo dal 10 al 30 Marzo io e
Mizushima76
si estende nell'arco di tre settimane in cui verranno rilasciati i sottotitoli di sei film del maestro in ordine cronologico, con altrettanti approfondimenti che includono commenti dello stesso regista, utili a comprendere non solo i film, ma anche il carattere sinceramente modesto e perfezionista del maestro. Si comincia con
Wangsimni
, il film che ha innescato il suo interesse e amore per le proprie origini, che poi ha approfondito meglio in seguito con
Genealogy
, il film della svolta autoriale che giunge a maturazione con i successivi
Mismatched Nose
e soprattutto
Mandala
. I successivi
Festival
del 1996 e
Hanji
del 2010 si concentrano su elementi della tradizione culturale coreana come il rito funebre coreano e la carta tradizionale coreana, che sottolineano l'interesse di quest'autore per l'identità culturale del suo paese.